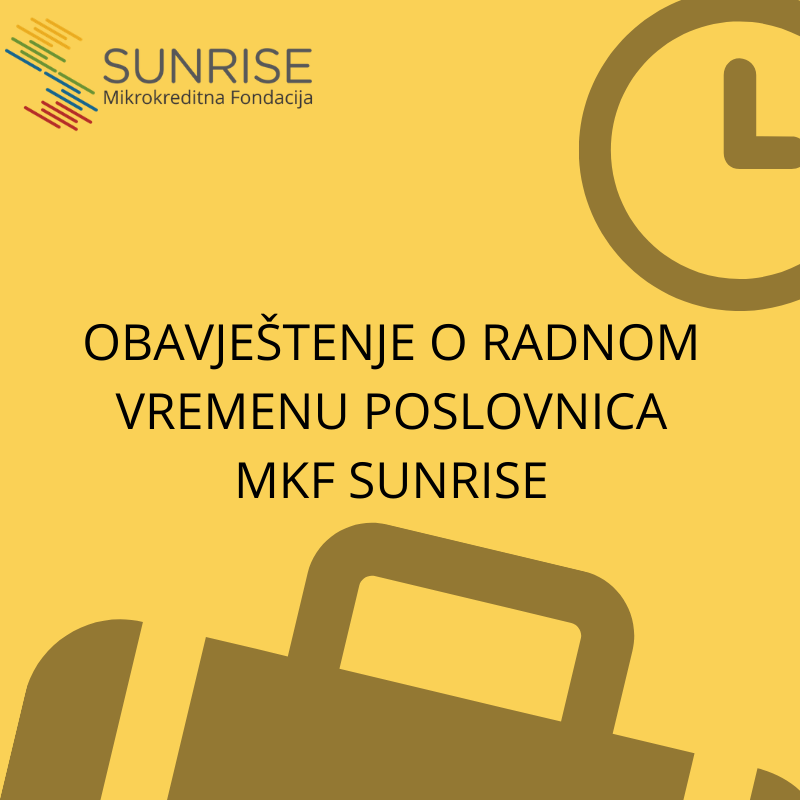 Dear clients and business partners,
We would like to inform you that as of 27th of April, 2020 all branches of MCF SUNRISE will be open from Monday to Friday, from 08:00 to 16:00 or 16:30, depending on the location of the representative office, except for the branch office in Maglaj, which will be open from 08:00 to 14:00.
The representative offices of the Foundation that operate in the territory of the Federation of BiH work until 16:30, while the representative offices in the Republic of Srpska will work until 16:00.
In accordance with the current epidemiological situation, we note that the disinfection measures of all business premises of the Foundation have been additionally strengthened, and funds have been provided for the daily disinfection of the hands of our employees and clients.
The health of our employees and you as our clients comes first, so we still ask you that if you need to visit one of our offices, first contact a specific branch and try to arrange a meeting with a loan officer. The list of branches and telephone numbers are below: http://microsunrise.ba/poslovnice/
If coming to the branch is necessary, please adhere to the recommended measures to prevent and prevent the spread of coronavirus, which in addition to the mandatory mask, gloves, hand disinfection and a distance of at least 1.5 meters, recommend limiting the number of people in one place. Based on the recommendations of the competent crisis headquarters, the Foundation made a decision to limit the number of clients who can be in the branch at the same time to 1, and we ask you to be patient because of all the above.
We also remind you of the option of contacting via social networks as well as online loan applications, which can be found at the following link: http://microsunrise.ba/online-prijava-za-kredit/
If you have any questions regarding temporary measures to mitigate the adverse economic impact of the Covid-19 viral disease, please contact the approved loan officer, give us a call at the toll-free number: 0800 30 565 or fill out an online request for some of the temporary measures at the following link: http://microsunrise.ba/online-zahtjev-za-odobrenje-privremenih-mjera/
Let us keep healthy and act conscientiously.
Kind Regards,
MCF SUNRISE